|
Print Story
|
E-Mail Story
| Font Size
PHOTO BY KRIS HEINEMAN
With so many snowboards being manufactured overseas, its refreshing to see quality hand built snowboards right here in the USA. Signal Snowboards are hand built in Huntington Beach.
Loading ...
Signal Snowboards: Hand Built with Love in OC
Published: Feb. 24, 2011 Updated: March 27, 2013 10:48 a.m.
When you stop and think about where most ski's or snowboards are manufactured, you'd probably think they're made in China or maybe somewhere in Europe, right? While most snowboards are made overseas, many don't realize that we have a world-class snowboard factory based right here in Orange County.
Signal Snowboards is a world renowned snowboard manufacturer that is locally owned and operated in Huntington Beach that delivers to shops and customers around the world. Signal has a creative team of engineers, artists and craftsmen who can design, hand-build and ride a board within a day.
Click Here for a photo tour of the factory and how a snowboard is made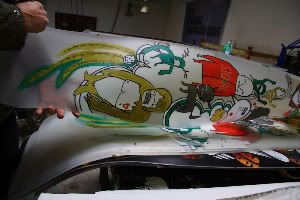 Signal was founded by pro snowboarder Dave Lee, who set out to create a snowboard fantasy factory, where they could build quality boards and create a unique brand without any creative boundaries. Dave created the Signal brand in 2004 and later partnered with Marc Wierenga to produce all of the Signal boards out of the factory in Huntington Beach. Prior to the Signal partnership, Marc manufactured boards for various outside brands from '94 to '07.
After years of hard work, Signal has become a world wide brand and one of the only homegrown snowboard manufacturing facilities in the United States.
Signal has positioned itself to be a "philophy and lifestyle in snowboarding rather than just a product developer." From hand painting every board in their OG series to hosting coffee breaks at the local mountains to using other local suppliers, signal has created a way to connect with their customers and riders on a more informal and personal level.
What's next for Signal? Since the produce all of their boards in the HB factory, they are continually pushing the envelope with new designs and concepts for all types of terrain from their Park Rocker multi camber boards to OG series all mountain boards. The OG boards have multiple layers of paint that can be scratched off to reveal hidden designs on the topsheet.
On "Every Third Thursday" they build a unique board around a theme, from a pair of snowboards that look like Vans shoes, to a snowboard that doubles as a putting green to a board that is also a dart board. We caught an exclusive look at their latest creation that will debut in March. We promised we wouldn't show it, but we must say it's pretty cool. Take a look at the latest Every Third Thursday below.
Take a look at the boards available at signalsnowboards.com